Water is the biggest threat to a house's structural integrity, and no room exemplifies this more than the bathroom, where moisture is a recurring issue. Bathrooms and kitchens undergo renovations more frequently than other rooms in the house because even a small amount of water seeping beneath the surfaces of the walls, counters, and floors soon starts to degrade the installation.
The foundation of any effective, long-lasting bathroom remodeling project is an effective, comprehensive system of moisture prevention. A bathroom's waterproofing quality can make the difference between one that lasts for years while looking wonderful and performing well and one that degrades quickly and succumbs to mold and mildew.
Here are some pointers for designing and carrying out bathroom renovations that withstand moisture damage:
Use Waterproof Building Materials

Hire a Pro for the Plumbing

Provide Access to the Plumbing

Install a Ventilation Fan

Use Tile as a Wall Surface

Install a Waterproof Floor

Concentrate on the Baseboard System

Caulk All Cracks and Holes

Make Sure the Bathtub or Shower is Watertight

Utilize High Gloss Paint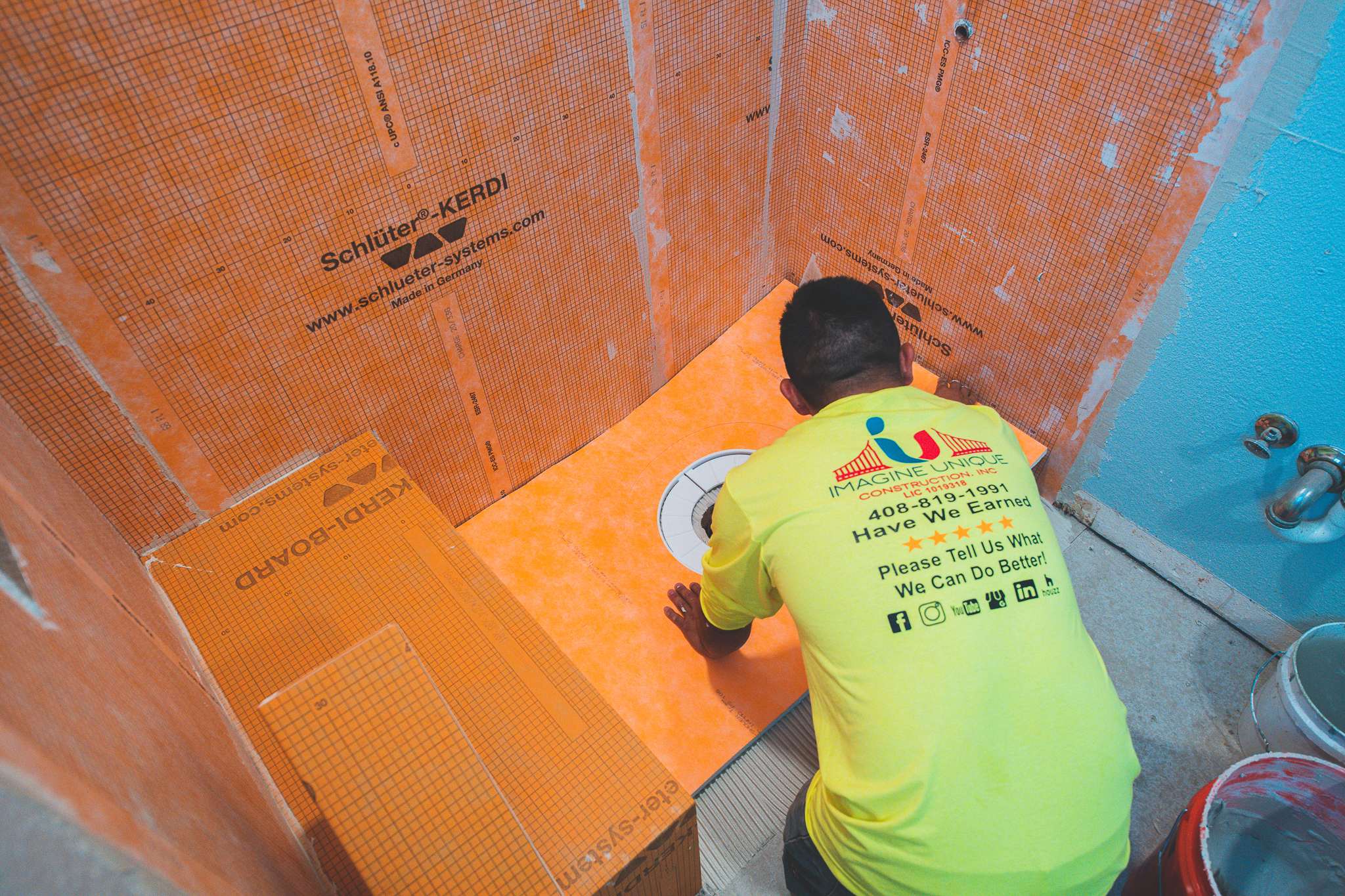 Pointers for Designing and Carrying out Bathroom Renovations that Withstand Moisture Damage
1. Use Waterproof Building Materials
For the majority of rooms in the house, utilizing natural, plant-based building materials like wood, bamboo, paper, or jute can be a great choice, but it is not advised for spaces with a lot of moisture, like bathrooms. Stone, metal, plastic, and ceramic or porcelain tiles are excellent options for bathrooms because they are not impacted by moisture. These materials tend to be more moisture resistant than organic ones and won't rot or deteriorate when exposed to moisture.
Make sure the backer board is made of high-quality waterproof material and is properly sealed if you are tiling a shower or tub surround. For tiled floors, the same waterproof backer board is an excellent option. Use specialized wallboard with a waterproof front for non-tiled walls instead of the organic paper-facing present in conventional wallboard.
2. Hire a Pro for the Plumbing
Plumbing pipe installation mistakes can cost thousands of dollars in damage even if they are very small and inconspicuous. While contemporary materials like PEX tubing make DIYers' jobs easier, you don't want to take any chances in this area. Consider hiring a contractor to handle the plumbing rough-in work if you are not completely sure of your abilities. Even if you do all other bathroom remodeling jobs, having the plumbing work done by a professional who is familiar with all code requirements can provide you with added peace of mind.
3. Provide Access to the Plumbing
Even if it isn't required, it is always beneficial to have a service panel that allows access to the plumbing for the bathtub or shower from the back. To inspect and repair the water supply pipes from the back, a hole can be made in the wall if the space on the opposite side of the wall allows it. Working on plumbing in this manner is simpler than removing the front tile.
4. Install a Ventilation Fan
Installing a large bathroom exhaust fan is one way to remove the wet air from the space. Bathroom fans are required by building code to exhaust a minimum of 50 cubic feet per minute (CFM) intermittently and 20 CFM continuously, but if the bathroom is big, you might want a stronger fan.
Some exhaust fans have infrared heat lamps as well, which can help to burn off moisture in a bathroom. Or, to aid with moisture, you can install a stand-alone heater. To avoid the growth of moisture and mold in bathrooms, it's a good idea to leave the exhaust fan running for 10 minutes after each usage.
5. Use Tile as a Wall Surface
The effects of water will be almost completely resistant to walls covered in ceramic or porcelain tiles. These tiles have been used for shower and bathtub surround walls for a very long time, but in contemporary bathrooms, they are frequently employed as a surface material for wainscoting, backsplashes, or even complete walls.
6. Install a Waterproof Floor
Hardwood, engineered wood, and bamboo are some of the traditional organic flooring options for bathrooms, but they don't perform all that well, especially in bathrooms used by families with children who are quite active. Plastic laminate flooring could seem like a nice option, but it typically has a core layer made of wood byproducts, making it easily vulnerable to water damage.
Ceramic and porcelain tiles are a timeless option for bathrooms and are now offered in designs that can be surprisingly good at imitating wood planks and other materials. Excellent alternatives include luxury vinyl planks and tiles. This particular type of vinyl is completely waterproof because it is comprised entirely of solid inorganic material. Additionally, premium vinyl is offered in designs that convincingly mimic wood, stone, or ceramics.
To prevent moisture from penetrating through the flooring to the underlayment and subfloor, which are both vulnerable, make sure the flooring is waterproof and that the installation is as watertight as possible.
7. Concentrate on the Baseboard System
Pay close attention to the baseboards, which form the transition between the bathroom floor and walls. To prevent water from leaking into walls and subfloors, install tight-fitting baseboards with caulk at the top and bottom.
For the baseboard moldings, whenever possible, substitute materials other than wood. A flexible thermoplastic vinyl wall foundation helps make a tight seal without the need for caulk, and synthetic PVC moldings can expertly replicate the appearance of wood baseboards. Where walls meet floors, ceramic tile trim moldings can be used to create completely impervious connections that are caulked at the top and bottom.
8. Caulk All Cracks and Holes
Any bathroom remodel requires silicone-based bathroom caulk. Use it to fill almost all gaps and cracks between surfaces, including those between floors and walls, countertops and walls, plumbing fixtures and floors and countertops, and notably any seams in showers and around bathtubs.
9. Make Sure the Bathtub or Shower is Watertight
The tub or shower is frequently the source of bathroom water damage, so pay close attention while upgrading to make sure it is as water-resistant as possible. When constructing a custom tile shower and shower pan, you might want to spend money on professional installation. To ensure that moisture cannot leak into wall cavities, professionals employ special waterproof backer boards or membranes behind the tile. Make sure you are knowledgeable and confident in your abilities before deciding to tile your shower.
10. Utilize High Gloss Paint
Bathroom walls painted with interior paint that has a flat or matte shine frequently smear and stain. To prevent unavoidable splashes from the bathrooms and condensation, choose glossier paints. Paints that are easy to apply and durable in bathrooms include satin, eggshell, and semi-gloss.
A watertight bathroom requires ongoing maintenance. After the renovation, maintain the condition of your bathroom by following these routine procedures for managing moisture: Using bath mats, keeping cracks caulked, sealing tile seams, using tightly fitting shower curtains, mopping up spilled water immediately, painting walls regularly, and fixing gaps in the flooring.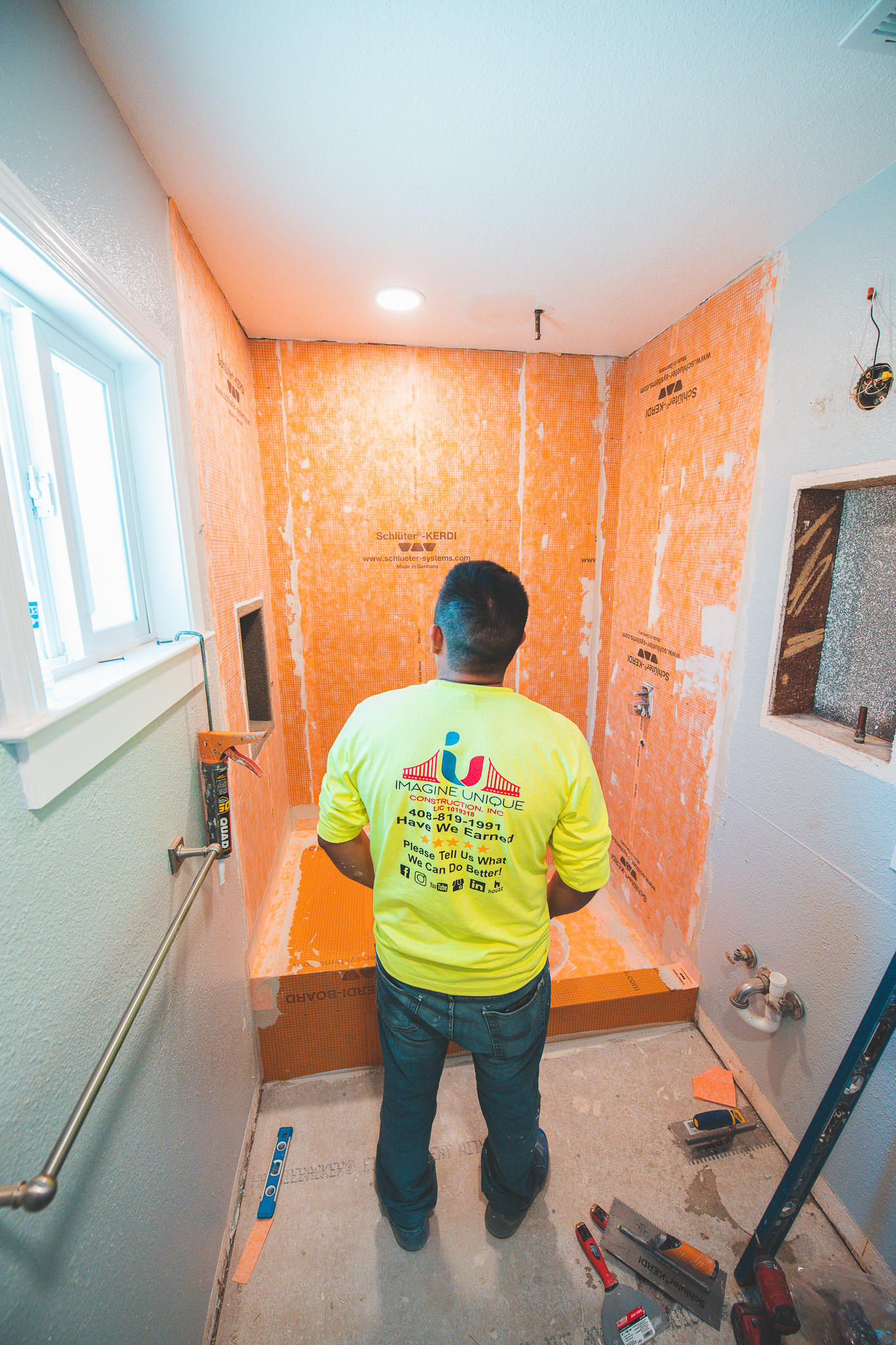 All About Schluter KERDI-SHOWER Systems
Schluter designed KERDI, a full waterproofing system that may be used to waterproof showers and other tiled surfaces exposed to water or steam.
Waterproof membranes, boards, seals, drains, and prefabricated substrates from KERDI can be combined to create a complete shower or added to a mortar bed or "hot-mop" application to offer full waterproofing to a more traditional system.
All KERDI components are waterproof and may be tiled directly over, preventing moisture from infiltrating the materials below and allowing the tile and grout above to dry entirely.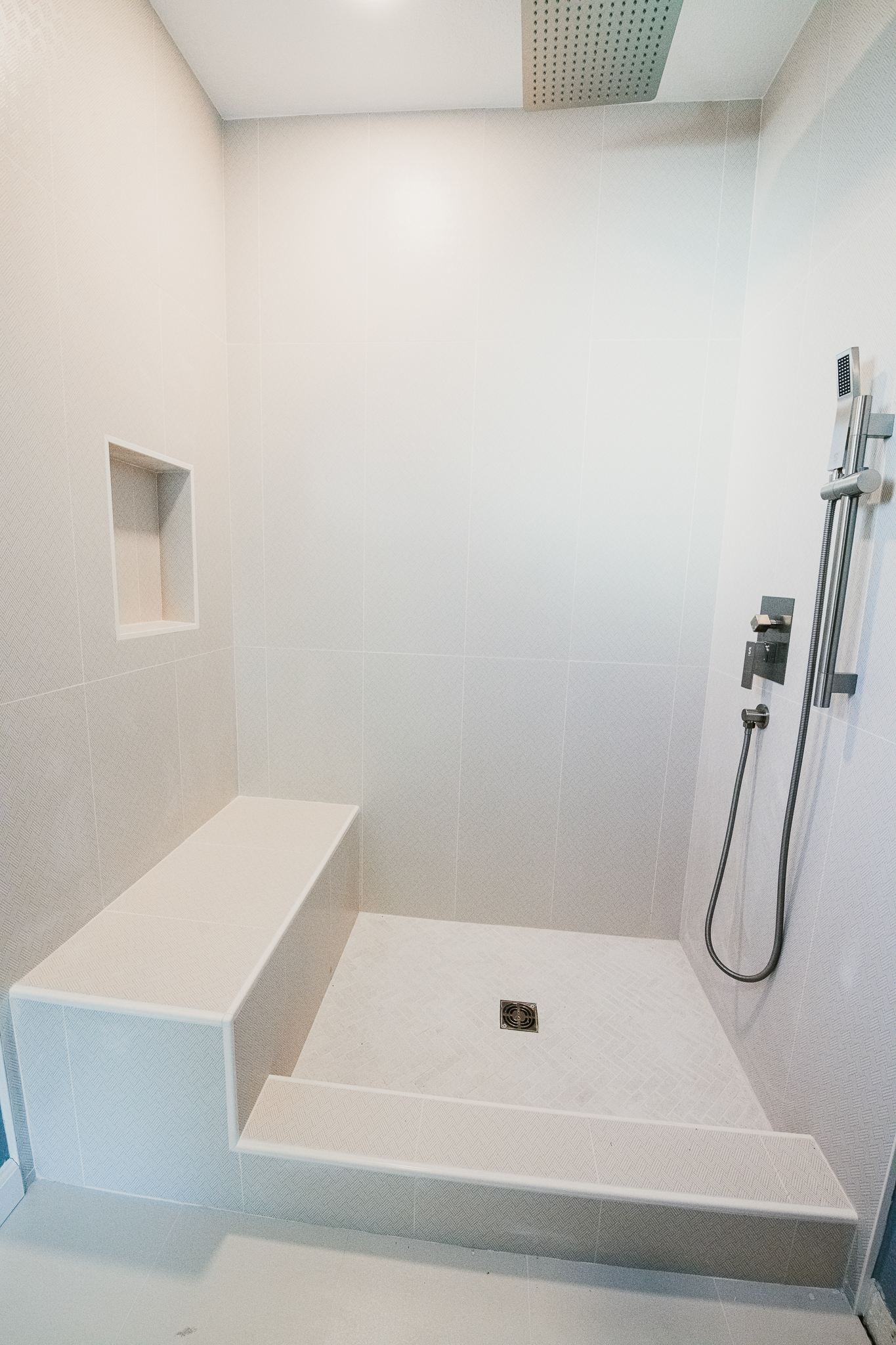 Conclusion
When renovating your bathroom, don't take shortcuts. Use top notch materials and hire a pro for any plumbing jobs. Remember to provide access to the plumbing area, install a ventilation fan, use tile as a wall surface, and keep an eye on the baseboard system.
Don't forget to caulk all cracks and holes for better insulation and make sure that your bathtub or shower is watertight. In order to achieve maximum results during bathroom renovation, be sure to apply high gloss paint as it has excellent protective properties against moisture damage.
Finally, don't forget about Schluter KERDI-SHOWER systems as an effective waterproofing solution. With the proper preparation and careful choice of materials used, you'll be able to create beautiful yet long lasting renovations in your bathroom without worrying about moisture damage!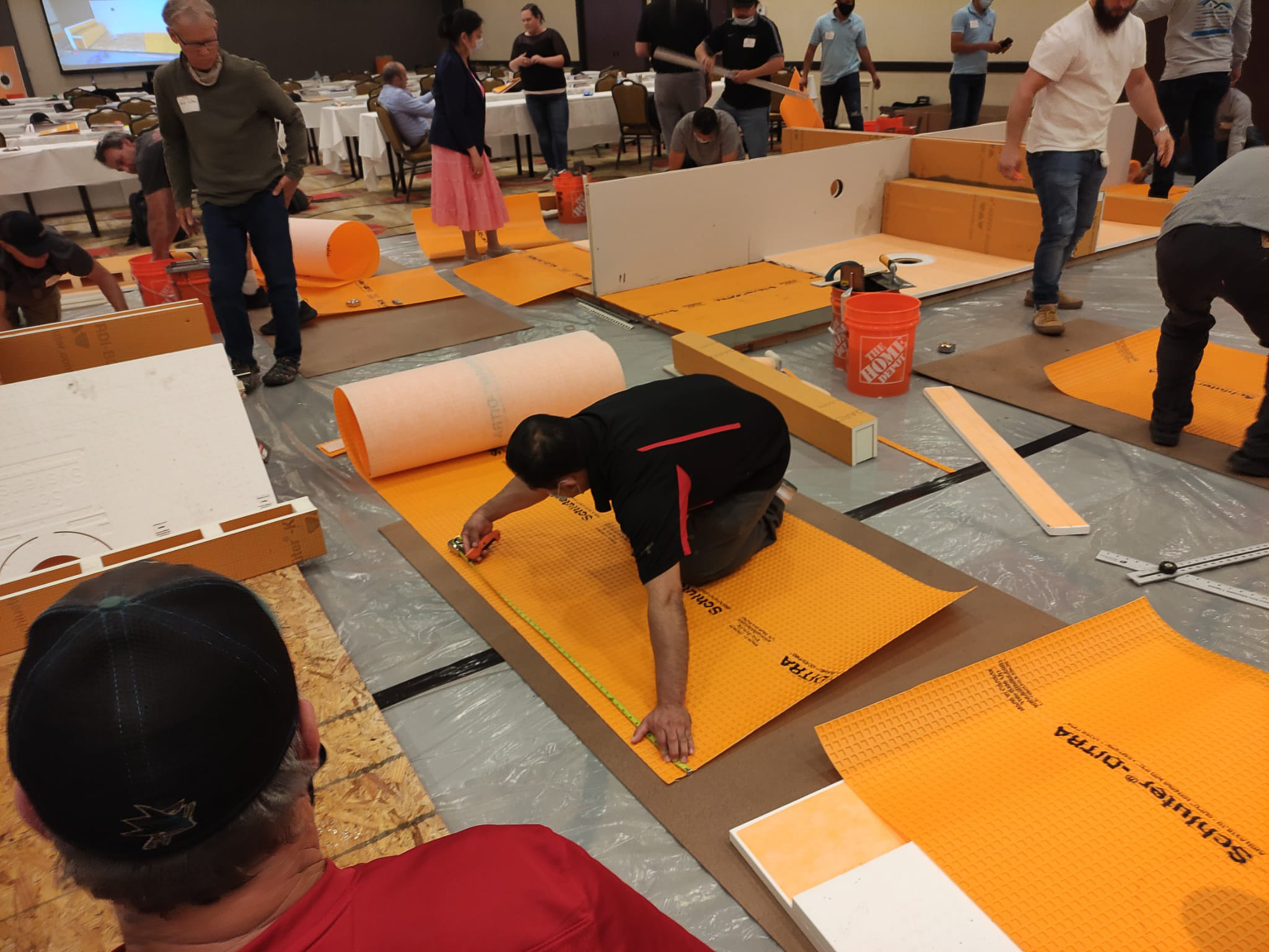 At Imagine Unique Remodels, we strive to provide only the exceptional services for our clients by continuously equipping ourselves with skills and knowledge relevant to kitchen and bath remodeling. That includes attending numerous trainings, workshops, and courses to further our waterproofing knowledge.
Take a free over-the-phone consultation with us now at (408) 600-0448.
"You IMAGINE, we build UNIQUE!"
Imagine Unique Remodels will not accept anything less than the best. We are always on the lookout for the best and want to see the sunny side of things. Come collaborate with us and let's make your goal a reality while we provide the best service possible!
✓ Clean environment
✓ 3-year warranty
✓ Guaranteed Quality
✓ Safe
Feel free to reach out if you have any questions regarding your next kitchen/bathroom remodel, we can guide you thru the full process from designing to the ready-to-use phase.
Consult with us at 408-600-0448!