An open-concept kitchen is a layout design in which the kitchen space is integrated and visually connected with the adjoining living spaces, such as the dining and living areas.
This means that there are no walls or barriers between the kitchen and the other areas. It gives a more open and spacious feel to the home.
This design is becoming increasingly popular as it allows for a more interactive and social atmosphere in the home, with the cook being able to interact with family and guests while preparing meals. It also allows for more natural light and a sense of flow throughout the living spaces.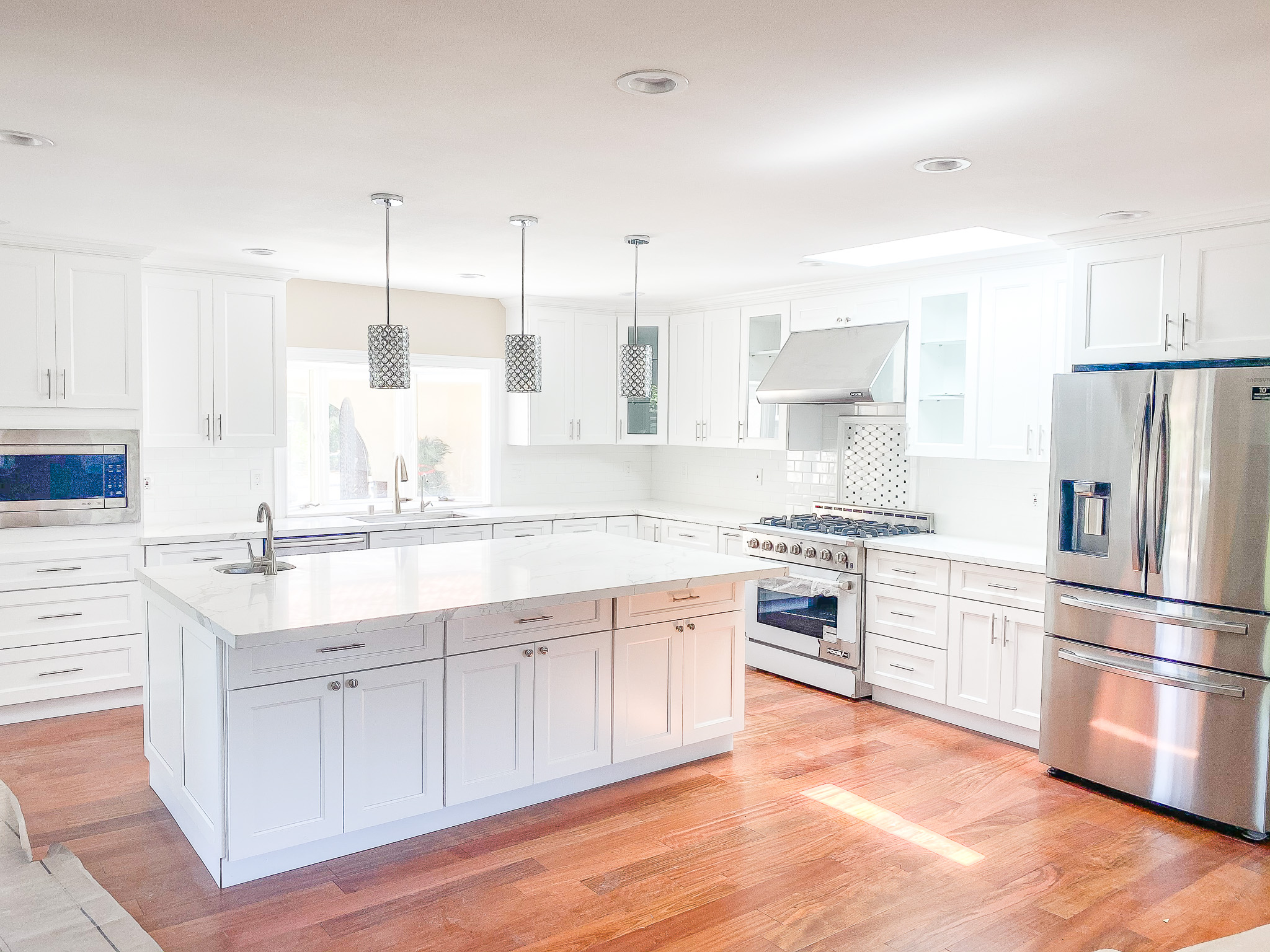 Five Benefits to Having an Open-Concept Kitchen
There are several benefits to having an open-concept kitchen in a home. Here are a few:
Better Social Interaction

Increased Natural Light

Improved Flow

Easier to Keep Clean

Adds Value to the Home
1. Better Social Interaction
With an open-concept kitchen, people can interact with each other even if they are in different areas of the room. It's great for people who love to entertain guests, as it allows the host to cook and socialize with guests at the same time.
2. Increased Natural Light
Open-concept kitchens often have large windows that allow more natural light into the space. This can make the space feel brighter and more welcoming and can help reduce energy costs by relying less on artificial lighting.
3. Improved Flow
Without walls or barriers, an open-concept kitchen can create a sense of flow between different areas of the home, making it feel more spacious and connected. It also allows for easy movement of people and food throughout the space.
4. Easier to Keep Clean
Open-concept kitchens tend to have fewer walls and fewer hard-to-reach areas, which can make cleaning up after meals a lot easier.
5. Adds Value to the Home
An open-concept kitchen can increase the value of a home because it is a popular and sought-after design feature. It can also make the home more appealing to potential buyers in the future.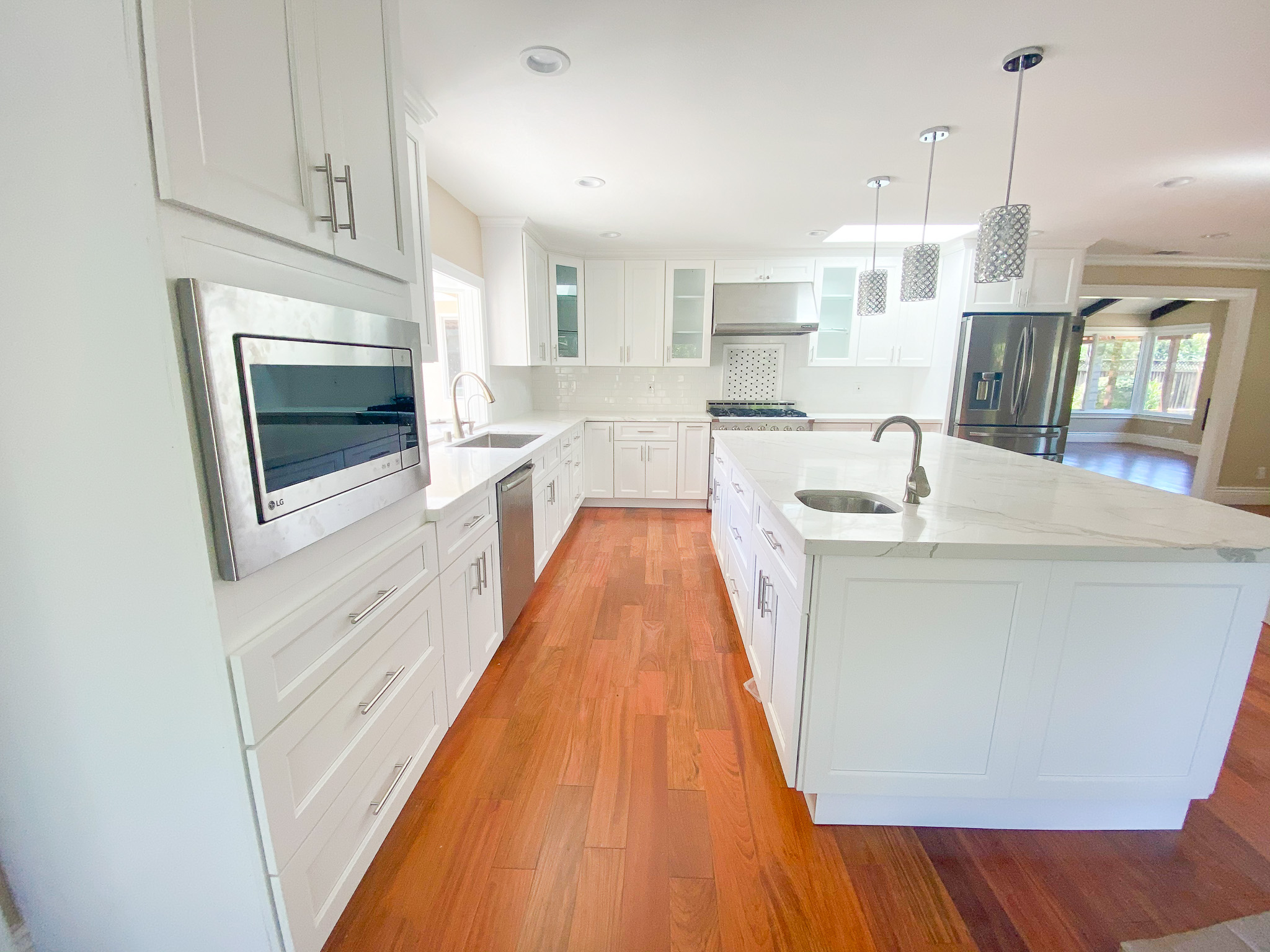 Tips for your Open-Concept Kitchen
While an open-concept kitchen is great for creating a sense of spaciousness and social interaction, it can also be a challenge to create a feeling of intimacy and flow. We'll explore these potential problems and discuss tips for your open-concept kitchen so to lives up to its full potential. Here's some:
Use Room Dividers

Incorporate Warmth and Texture

Add Layers of Lighting

Create Zones

Use Color
1. Use Room Dividers
While you want to maintain an open feel, it's possible to create separation and define different areas using room dividers like screens, sliding doors, or curtains. These elements can help to provide some privacy while still allowing for an open flow between areas.
2. Incorporate Warmth and Texture
To make the space feel more intimate, incorporate warm and textured materials like wood, stone, or natural fibers. This can help to create a cozy atmosphere and add visual interest.
3. Add Layers of Lighting
Having multiple layers of lighting, including task lighting for cooking, ambient lighting for overall illumination, and accent lighting to highlight specific areas, can help to create a sense of depth and intimacy in the space.
4. Create Zones
To make the open space feel more cohesive and functional, create designated zones for different activities like cooking, dining, and relaxing. This can be done with furniture placement or by using different flooring materials or lighting.
5. Use Color
Using color strategically can help to create visual separation and define different areas in the space.
For example, using a bold color on a kitchen island or accent wall can help to draw the eye and define the cooking area.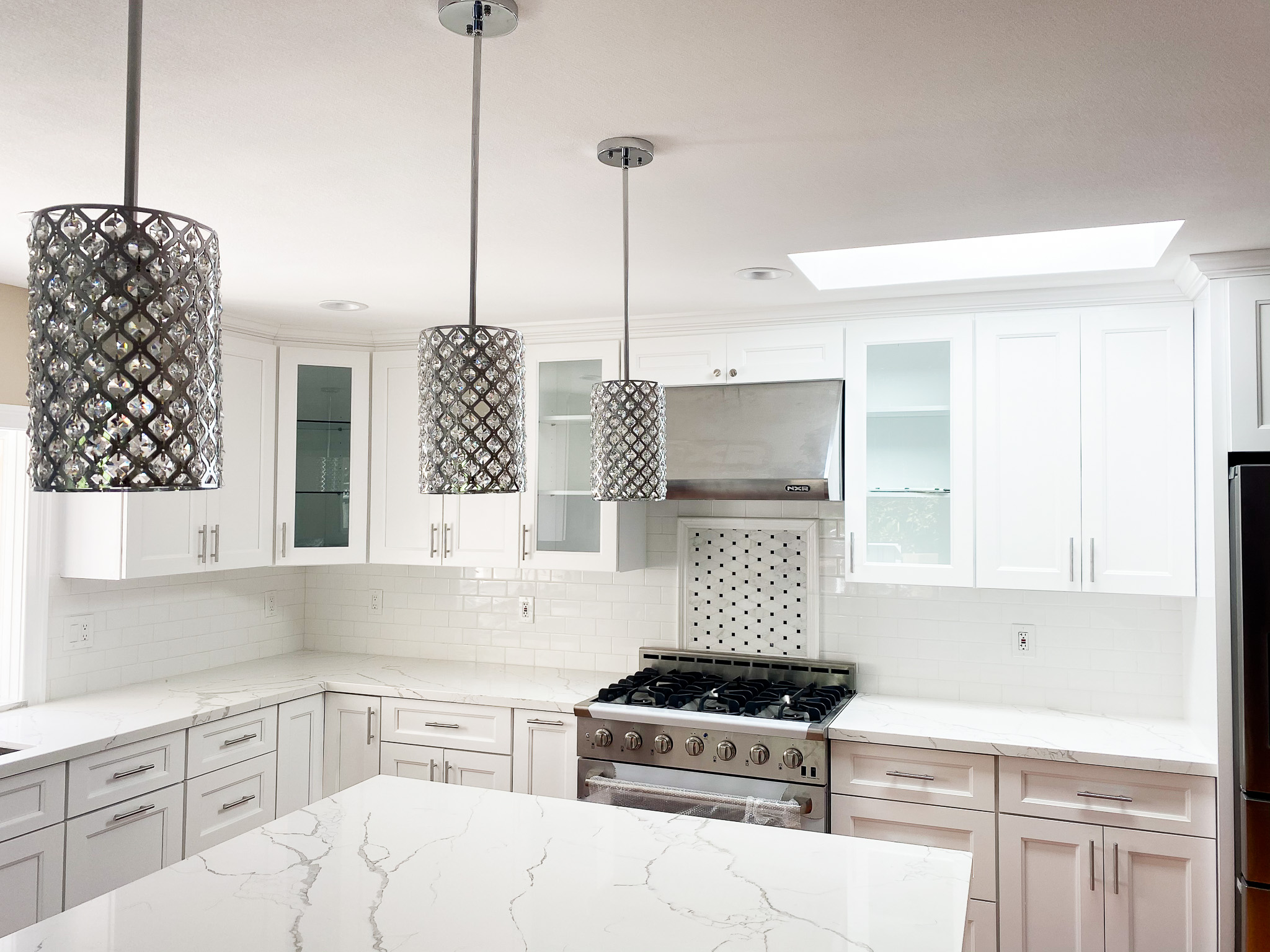 Choosing The Right Materials for your Kitchen
Remodeling your kitchen with an open-concept layout is an exciting project and an opportunity to customize the look of your house. But with so many materials available, how do you decide which is best for this type of renovation? In this article, we'll discuss everything you need to know about choosing the right materials for building a functional and stylish open-concept kitchen.
Flooring
Since the kitchen will be open to the rest of the living space, choose a flooring material that complements the surrounding flooring or materials.
Hardwood or tile are popular choices for open-concept kitchens because they are durable and easy to clean.
Countertops
Consider using a durable material for your countertops, such as granite or quartz. These materials are not only durable but also provide a sleek and modern look.
Backsplash
A backsplash can add a pop of color and texture to your open-concept kitchen. Choose a material that complements your countertops and cabinetry, such as glass, tile, or natural stone.
Cabinetry
Your cabinetry should be both functional and stylish. Consider using wood or wood-like materials, such as laminate or melamine, for a timeless look.
Lighting
Lighting is an important element in an open-concept kitchen. Choose lighting fixtures that complement your design scheme and provide adequate task lighting for cooking and meal prep.
When it comes to lighting an open-concept kitchen, it's important to create a cohesive look while also providing adequate lighting for cooking and entertaining. Here are some tips for you.
Pendant Lights
Pendant lights are a popular choice for open-concept kitchens because they can be hung over an island or dining table to provide both task lighting and a decorative element. Choose a style and finish that complements your kitchen's design scheme.
Recessed Lighting
Recessed lighting can be installed throughout your kitchen's ceiling to provide general lighting. Use dimmer switches to adjust the brightness and create a cozy atmosphere when entertaining.
Under Cabinet Lighting
Under cabinet lighting can provide additional task lighting while also highlighting your backsplash and countertops. Choose LED strip lighting for a modern look.
Chandeliers
If you have a formal dining area within your open-concept kitchen, consider installing a chandelier above the table to create a statement piece.
Track Lighting
Track lighting can be used to highlight specific areas of your kitchen, such as your island or a decorative feature. Choose adjustable track heads to direct the light where you need it.
Remember to choose lighting fixtures that complement your kitchen's design scheme and provide both function and style. Mix and match different lighting types to create a layered lighting design that adds depth and dimension to your open-concept kitchen.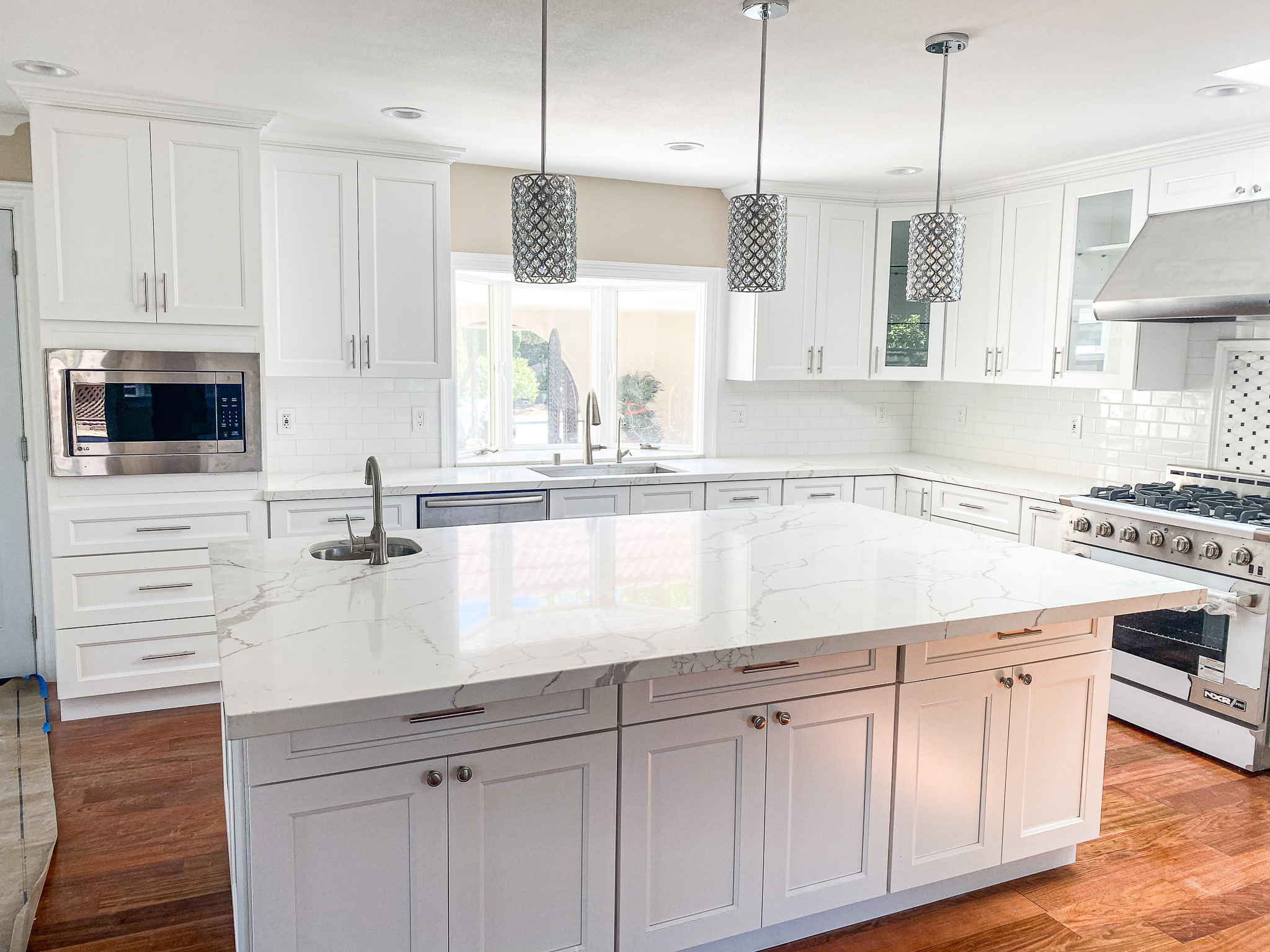 Conclusion
Open-concept kitchens are a fashionable trend in modern home design that offers both style and functionality. By removing physical barriers, they create larger, brighter, and more inviting spaces. Open-concept kitchens also make it easier to enjoy the social aspects of gatherings in the kitchen and improve the overall flow of the home.
At Imagine Unique Remodels, kitchen remodeling is one of our expertise. Our team is highly trained and has gained years of experience in the industry including designing and remodeling an open-concept kitchen.
We cater to the needs of our clients and guide them towards achieving the kitchen that they've always been dreaming of! Need assistance? Take a free over-the-phone consultation with us now at (408) 600-0448.
"You IMAGINE, we build UNIQUE!"
Imagine Unique Remodels will not accept anything less than the best. We are always on the lookout for the best and want to see the sunny side of things. Come collaborate with us and let's make your goal a reality while we provide the best service possible!
✓ Clean environment
✓ 3-year warranty
✓ Guaranteed Quality
✓ Safe
Feel free to reach out if you have any questions regarding your next kitchen/bathroom remodel, we can guide you thru the full process from designing to the ready-to-use phase.
Consult with us at 408-600-0448!